https://www.youtube.com/watch?v=BTX8nluCKy4
IBIZA, the island of Freedom is Calling you!
No need to say too much! IBIZA Sailing route, a SAIL BREAK classic; a dreamy 7 days awaits you, sailing all day long with its magnificent nature, pleasant winds; having fun in the evenings with "After Sail Parties" organized on yachts or beaches, then waking up the next day with the indescribable nightlife of IBIZA!
I am very happy to meet the SAIL BREAK. Special thanks to VİRA Team who reply my questions without getting tired, thanks for incredible events. See you in next event 🙏
Nurhan Uzun
The only event that I can put my heart into and participate in without thinking at all. SAIL BREAK makes you forget the stress of life, adds the most beautiful new friends to your life!
Gamze Gülşen
Thank you for connecting us with beautiful people! It's not where we are, but who we are with 😘
Berkan Yenigün
It was an amazing experience. Then, with their support, I became the captain of my own boat. Thank you so much to the whole team.
Prof. Dr. Burak Tatlı
An experience that you will never forget! I strongly recommend that everyone should experience sailing vacation once in their life with this team!
Esra Bölükbaşı
3 installments with no interest on credit card
Eivissa, Formentera, Sant Antoni, Cala Benirras, Cala Bassa, Cala d'Hort, Cala Tarida and more
Starting point: Ibiza (IBZ)
Anyone who likes the sea and having fun can participate, no sailing experience is required
Give a "SAIL BREAK" to your life!
EXCLUSIVE PARTIES IN THE BEST CLUBS
HIPPY DRUMS TO SUNSET PARTY
BADMINTON, SUP AND OTHER GAMES
The starting point of SAIL BREAK IBIZA is Marina Port Ibiza! We will greet you, check-in and start our unforgettable sailing holiday!
IBIZA is literally a dreamy island! Not only with its world-famous nightclubs and parties, but also the Hippie culture it hosts, the fact that almost the entire island is included in the UNESCO World Heritage List and its unique nature make Ibiza one of the most important tourist areas in the world…
We start our holiday in Dalt Vila, in the heart of the island. As usual, the first night means "Family Dinner"! You are our guest in our traditional long single table concept, which is a SAIL BREAK classic, as well as with a traditional paella menu at one of the most popular restaurants in Ibiza Old Town! After that, the unrivaled nightlife of Ibiza is waiting for us…

DAY 2: EIVISSA >
CALA TARIDA
After a great night, we wake up in the morning at the marina, have breakfast on boats or at nearby cafes, do some shopping and anchor! The direction is Cala Tarida! After a nice sailing course, we drop anchor at Cala Tarida. We are creating our own party island in the middle of the sea by connecting the entire fleet, which is a SAIL BREAK classic. It is difficult to describe this unique environment called "Raft" by writing 🙂 We are going ashore with boats after the party. We spend some time at the famous Tarida beach and watch the sunset over the rock right in the middle of the beach.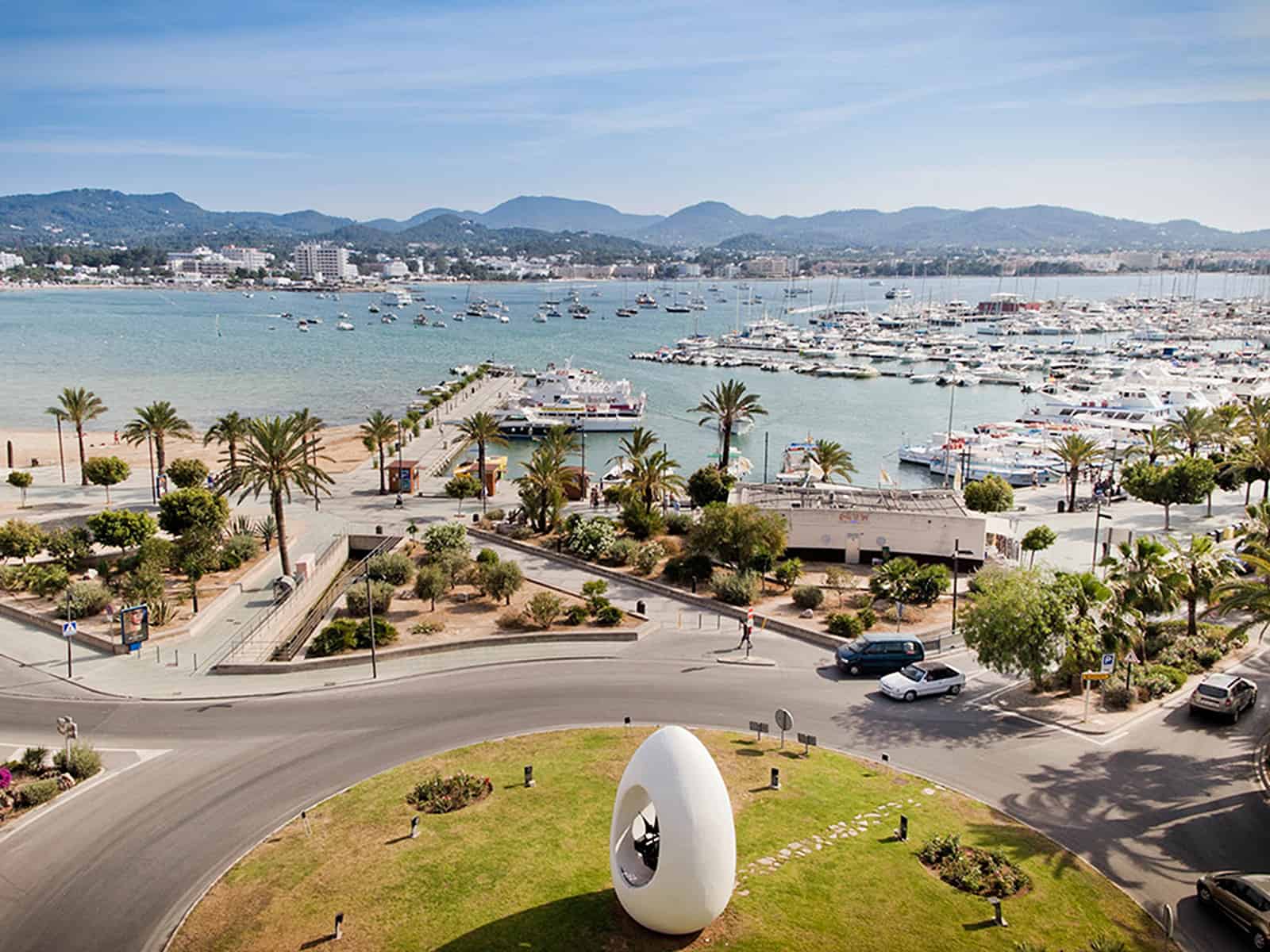 DAY 3: CALA TARIDA >
SANT ANTONI
In the morning, we wash our faces in the sea, have breakfast then seth sail! Our next stop is Ibiza's second largest city, Sant Antoni. Before we arrive, we give a swimming break in a beautiful bay. After we moor to the marina we start our Sant Antoni tour… 
There are world-famous places such as Cafe Del Mar and Cafe Mambo in the area called Sunset Strip, where we can watch the sunset in the most beautiful way. After we watch the sunset we continue the night at one of the pubs in the street of the bars. We will announce the rest of the night when the Ibiza 2023 Party Calendar when it's published  🙂
DAY 4: SANT ANTONI >
CALA BENIRRAS
 Mornings at Sant Antoni usually start with a light walk along the coast and a nice breakfast at Rita's Cantina or Skinny Kitchen. And always continues with shopping 🙂
Around noon we set sail. Today our destination is one and only Cala Benirras! We can't describe this beauty with words…  There is a sacred rock called ''Finger of God'' or ''Sitting Buddha'' in the middle of the bay, Hippie Market at the beach, Elements Restaurant and of course the Hippie Drums To Sunset Party… While the sun is going down behind the sacred rock, we are dancing with the hippie drums at the beach… We hope you could imagine it. This will be a night you'll never forget.
DAY 5: CALA BENIRRAS >
CALA BASSA
Good morning from Cala Benirras! We are sure that we will wake up to a wonderful day. We will relieve yesterday's fatigue with a nice swimming break. We can go to the beach and have a delicious breakfast. If you want you can discover the bay with paddle boards or sunbathe at the beach. 
At noon, it's time to sail! This time we are on our way to another famous bay, Cala Bassa! It's not just the gorgeous beach and clear waters that make Bassa famous… Also the amazing place called CbBC! We will spend our day here. We will start our appetizers with champagne, then we will enjoy the perfect sea and get ready for dinner. After dinner, we can go to town according to 2023 Party Calendar or we can join CbBC's night program 🙂  Whichever it is, it will definitely be a very joyous night…
DAY 6: CALA BASSA >
FORMENTERA
We wake up at Cala Bassa. We jump straight into the sea 🫠 We can have our breakfast in our boats or in CbBC. After breakfast, a marvelous spot is waiting for us! Our next stop is Formentera! World famous unbeatable beaches, amazing beach bars and of course the famous sunset… 
When we arrive, we drop anchor to swim. Then we head to the beach. We start to party with our cocktails in one of  the beach bars. To watch the sunset we go back to the beach. This time we watch the sunset while we swim. Now Formentera Town is waiting for us! After a short walk, we deserve a delicious dinner… 
DAY 7: FORMENTERA >

EIVISSA
There are only few things better than waking up in Formentera 🙂 We jump into the water immediately and swim at this world famous beach. Then we have a walk at the beach and enjoy Ses Illetes. Now it's time to set sail! We are having a pleasant cruise up to Eivissa. We are seeing Dalt Vila from far away. We are greeted by giant walls that are said to have been built to stop the Ottoman Navy at the time. It's a magnificent view. We are approaching Marina Port Ibiza, our starting point. As usual, we will pop our champagne with our captains and take our photos! See you at the next SAIL BREAK!
PRICES
Participation fees vary depending on the type of accommodation (Cabin / Yacht)
Catamaran
Leave a request to get a price
Pre apply for 2024 Routes!
Accommodation
6 nights accommodation on a yacht
Captain and all expenses
Yacht charter and related expenses
Event participation fee
Basic necessities package (water, bathroom-kitchen hygiene products, etc.)
Fuel and mooring expenses
Exclusive SUP and inflatable toys – floating beds for each boat
Dinghy and outboard engine
Bed linen, towels, and boat delivery cleaning
Mandatory travel insurance
Content
Special sailing itinerary
Sailing training and certification
Concept activities
Welcome Party
Long Table Family Dinner
Participation in 1 exclusive party (Pacha Flower Power @ Pacha)
Ibiza Old Town tour
Hippie Market tour
S.B. Pirates Party with gift costume
After Sail Parties
Excluded
Transportation to the starting point of the activity (Flight and transfer assistance can be obtained from the reservation unit.)
Food & beverage expenses (excluding those provided within the program)
ravel health insurance (Assistance can be obtained from the reservation unit.)
Personal expenses
Cabin with private bathroom
Cabin with private bathroom
Cabin with private bathroom
Cabin with private bathroom
Catamaran Plan
There are 2 different cabin types as bow and aft cabin.

Cabins are for 2 people.

All catamarans on our Ibiza route have a private bathroom.

There is no bunk bed or single bed option.
3D Virtual Tour
Example Yacht Photos - Catamaran
WHAT'S ON OUR YACHT?
Let's see what services or materials are/ are not available on the boat by comparing it with a hotel room or an apartment;
What We Have In Our Yachts:
Bed

Wardrobe

Shower and toilet

Kitchen and kitchen utensils

Refrigerator, stove, oven

Bed linen, towels, pikes (1 piece each)

Basic necessities package (Drinking water, bathroom-kitchen hygiene products, etc.)

Boat and engine

SUP and inflatable toys – floaites
What We Don't Have In Our Yachts?
Hair dryer 

Toothbrush, slippers, etc

Air conditioning (Available on some yachts, please ask)

Housekeeping, room service

Telephone, TV, minibar
How To Get There
At SAIL BREAK Events, each participant is responsible for their own transportation to the event venue. Our officials can guide you towards suitable transportation options. Please reach out to us for assistance.
How To Get Ibiza
Our event will start in Eivissa, the city center of Ibiza. It is possible to find regular scheduled flights from many European cities, especially from Spanish cities. You can contact us for details.
Except for the Welcome Party and the traditional Long Table Family Dinner held on the first night, food and beverage expenses during SAIL BREAK activities are covered by participants according to their own preferences and needs. The SAIL BREAK concierge team will be delighted to assist you in this regard. They will guide you accurately regarding both provisioning for the yacht and the restaurants in the area.
Whether it's at the coastal restaurants or in the kitchen on your yacht
If you have registered for individual participation or cabin charter, we can consider two options for meals. Either the participants can prepare their own meals in the yacht's kitchen, or we can dine at coastal restaurants when we dock ashore. While group meals can be organized, each team is also free to make their own arrangements.
Depending on the number of days spent on the yacht and on land, we advise consulting with your captain to decide the ratio and plan your provisions accordingly 😉
In the case of  private yacht charter, there is no shared budget. Each team can create their own system. We can provide a hostess/chef for the yacht, and they can prepare the meals.
Please feel free to reach out to us for any further questions.
6 installments with no interest difference for Turkey based events, 3 installments non-Turkey based events