https://www.youtube.com/watch?v=S6BRC_N3VIY
SAIL BREAK Greece; Rhodes, Symi from Marmaris!
An unforgettable sailing holiday in Greece awaits you! Full days of sailing, stunning bays, unique islands, plenty of history, the best examples of Aegean cuisine, and of course, taverns… Our route includes the favorites of the 12 Islands; SAIL BREAK Greece, and it departs from Marmaris, to Rhodes and Symi!
I am very happy to meet the SAIL BREAK. Special thanks to VİRA Team who reply my questions without getting tired, thanks for incredible events. See you in next event 🙏🙏
Nurhan Uzun
The only event that I can put my heart into and participate in without thinking at all. SAIL BREAK makes you forget the stress of life, adds the most beautiful new friends to your life!
Gamze Gülşen
Thank you for connecting us with beautiful people! It's not where we are, but who we are with 😘
Berkan Yenigün
It was an amazing experience. Then, with their support, I became the captain of my own boat. Thank you so much to the whole team.
Prof. Dr. Burak Tatlı
An experience that you will never forget! I strongly recommend that everyone should experience sailing vacation once in their life with this team!
Esra Bölükbaşı
3 installments with no interest on credit card & 100% cancellation / refund opportunity
Marmaris, Kumlubük, Symi, Pedi, Rhodes, Lindos and more
Anyone who loves the sea and having fun can join, no sailing experience is needed!
BADMINTON, SUP AND OTHER GAMES
The starting point of SAIL BREAK Greece is Marmaris Netsel Marina. We will welcome you with the SAIL BREAK Pool Party and proceed with the check-in process to begin our unforgettable sailing holiday! As usual, the first night means "Family Dinner"! You are our guest in our traditional long table concept, a classic SAIL BREAK experience! We will definitely have a great time at night, but remember, we have an early departure in the morning! Our route: Symi!
Weighing anchor early in the morning, we begin our journey to Symi! Leaving Turkish waters behind, the SAIL BREAK fleet sails into Greek waters. What could be more enjoyable than this? By midday, we arrive at the world-famous Symi! Words cannot do justice to its beauty. We will be greeted by a picturesque landscape! In the evening, as usual, we will be at Manos! Enjoy plenty of seafood, unlimited Ouzo, and, of course, the tradition of breaking plates everywhere 🙂 Later on, the party continues just a short distance away…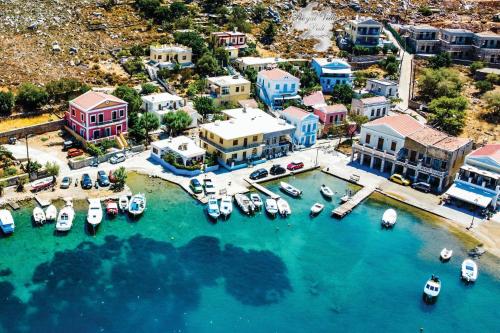 With the early risers, we embark on a lovely tour of Symi. We'll make a stop at the bakery for some delicious Bougatsa, a classic Symi breakfast treat. After a bit of shopping, it's time to weigh anchor… Our destination: Pedi! A long, narrow, and magnificent bay awaits us. Once we're moored in the marina, we'll enjoy a beautiful walk accompanied by breathtaking views. In the evening, of course, we'll be at a tavern again. We're a bit calmer compared to yesterday because today is the "silent day" 😉
DAY 4:
PEDI >
RHODES OLD TOWN
Waking up in Pedi is another beautiful experience. After washing our faces in the sea and enjoying a delightful breakfast at a cafe on the other end of the bay, we begin our journey towards Rhodes! It is the largest of the 12 Islands and the place where the famous Colossus of Rhodes, one of the Seven Wonders of the World, was once located.
We will moor our fleet at the historical Mandraki harbor, right in front of the castle built by the Knights of the Temple. After the After Sail Party, we'll take a short tour of the Old Town and enjoy a delightful dinner at one of the magnificent restaurants within the castle. The night awaits us with the SAIL BREAK Party! We believe there's no need to explain Rhodes' nightlife 😉
We woke up in the center of Rhodes. We had our breakfast at the Yacht Club or on the boats. Our next destination is Lindos! After a beautiful sailing journey, we will be greeted by the magnificent Lindos Acropolis. You have to see this view; words cannot describe it. There is an incredible bay, beach, and a historic city with an Acropolis rising above it… We will anchor our boats right beneath this sacred view, and as always, the SAIL BREAK Pirates Party will begin here! After the fun, we will have a fantastic meal on the sandy beach. Then, a 10-minute walk towards the center of Lindos. Enjoy a pleasant stroll through the historic city, followed by the start of Lindos nightlife 😉
We would love for you to witness the moment when the sun first hits the Acropolis from your boat. The sunrise here is truly exceptional. Even if you can't wake up early, you still have time to jump into the sea and enjoy a refreshing swim. Around noon, we will set sail towards Rhodes New Marina. One day is not enough to explore Rhodes Town. There are so many places left for us to visit! We have dedicated this day to everything we wished we had more time for. Surprises await you…
This morning, we will wake up in Rhodes for the last time. Then, our route takes us directly to Marmaris! After an enjoyable sailing journey, we will deserve a swimming break. Afterwards, the entire fleet will go through customs for passport procedures before docking at our starting point, Marmaris Netsel Marina. As usual, we will pop our farewell champagnes with our captains and take memorable photos! Until our next SAIL BREAK, goodbye!
PRICES
Participation fees vary depending on the type of accommodation (Cabin / Yacht)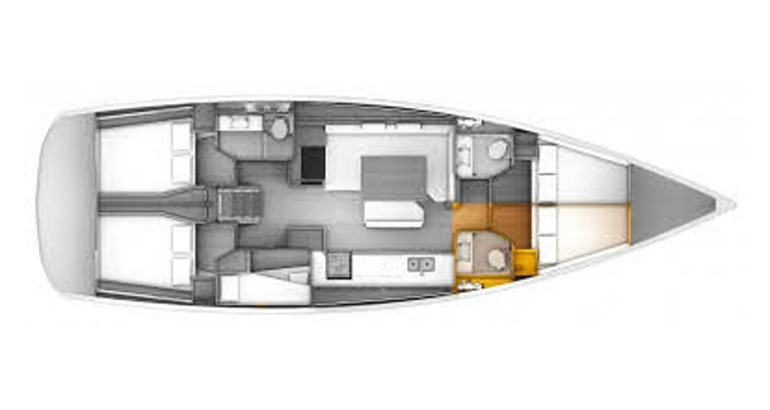 Yacht Cabin with Private Bathroom (1-2 people)
Premium Yacht
Leave a request to get a price
Accommodation
7 nights accommodation on a yacht
Captain and all expenses
Yacht charter and related expenses
Event participation fee
Basic necessities package (water, bathroom-kitchen hygiene products, etc.)
Fuel and mooring expenses
Exclusive SUP and inflatable toys – floating beds for each boat
Dinghy and outboard engine
Bed linen, towels, and boat delivery cleaning
Mandatory travel insurance
Content
Special sailing itinerary

Sailing training and certification

Themed Activities 

Welcome Party

Long Table Family Dinner

Symi Tour

Rhodes Old Town Tour

S.B. Pirates Party and costume gift

After Sail Parties

Games and contests 

DJ Performances
Excluded
Transportation to the starting point of the activity (Flight and transfer assistance can be obtained from the reservation unit.)
Food & beverage expenses (excluding those provided within the program)
Travel health insurance (Assistance can be obtained from the reservation unit.)
Personal expenses

Example Premium Yacht Plan
On the Greek Islands route, all cabins have a private bathroom.

Cabins are for 2 people.

Cabins with bunk beds are used for the crew.
3D Virtual Tour
Example Yacht Photos - Premium Yacht
Let's see what services or materials are/ are not available on the boat by comparing it with a hotel room or an apartment;
WHAT'S ON OUR YACHT?

Let's take a look at what services or amenities are available/not available on the boat, comparing it to a hotel room or apartment:

What We Have In Our Yachts:

– Bed
– Cabinet
– Shower and toilet
– Kitchen and kitchen utensils
– Refrigerator, stove, oven
– Bedding, towels, blankets (1 each)
– Basic necessities package (Drinking water, bathroom and kitchen hygiene products, ect.)
– Dinghy and outboard engine
– SUP and inflatable toys – floaties

What We Don't Have In Our Yachts:

– Hairdryer
– Toothbrush, slippers, ect.
– Air conditioning (Some yachts may have it, please inquire)
– Housekeeping, room service
– Telephone
– Television
– Minibar
At SAIL BREAK Events, each participant is responsible for their own transportation to the event venue. Our officials can guide you towards suitable transportation options. Please reach out to us for assistance.
Transportation to Marmaris
There are direct scheduled flights to Dalaman, which is the closest airport to Marmaris, from many cities in Turkey. Additionally, transportation can be arranged by bus or private vehicle.
Please feel free to reach out to us for any inquiries!
FOOD
Except for the Welcome Party and the traditional Long Table Family Dinner held on the first night, food and beverage expenses during SAIL BREAK activities are covered by participants according to their own preferences and needs. The SAIL BREAK concierge team will be delighted to assist you in this regard. They will guide you accurately regarding both provisioning for the yacht and the restaurants in the area.
Whether it's at the coastal restaurants or in the kitchen on your yacht
If you have registered for individual participation or cabin charter, we can consider two options for meals. Either the participants can prepare their own meals in the yacht's kitchen, or we can dine at coastal restaurants when we dock ashore. While group meals can be organized, each team is also free to make their own arrangements.
Depending on the number of days spent on the yacht and on land, we advise consulting with your captain to decide the ratio and plan your provisions accordingly 😉
In the case of  private yacht charter, there is no shared budget. Each team can create their own system. We can provide a hostess/chef for the yacht, and they can prepare the meals.
Please feel free to reach out to us for any further questions.
6 installments with no interest difference for Turkey based events, 3 installments non-Turkey based events